THE NOTRE DAME CATHEDRAL
© 1996 Poetry and Sketching by Kiran Keswani - Glucksburg, Germany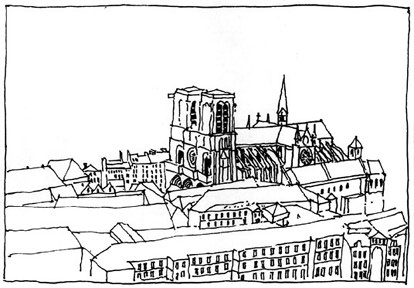 At the Notre Dame cathedral.
The large plaza before it.
The cathedral dark and crowded.
Little candles to be offered.
White candles in dishes
To be placed on multiple candle stand in black
Waiting for offerings of light in the dark.
The confession room behind mesh
As if in another world, another life.
A reincarnation.
Darkness as in the caves of Ajanta and Ellora.
Bases of columns in stone.
No space above, only darkness.
Space in front, filled with
People nudging along
Turning into the nave
To see in front, the altar.
And, on the sides and the back
The rose windows with stained glass
All these colours, a beautiful pattern.
Fine work at the rear
Towards the entrance
Hidden in part
By the large organ in front of it.
It looks down on the nave.
As we exit, the crowd moving slowly.
There is a raised umbrella
Its the tourist guide
Leading the way for her group.
Another, holding up
What looks like an antenna.
Guides and their tourists
Finding their way in this sacred cathedral.
All of us, from the world outside
Momentarily in darkness
A darkness serene and meaningful.