Microsoft Augusta Office Expansion
New 600,000 ft² Office | Commercial | Redmond, WA | 1996



On this project, I acted as on site Senior Designer under Steve Worthington in the new Redmond HOK office established for the project.. During the course of this project, the team under me used the 3d object-oriented approach to design using AutoCad r.13 that I developed. The image above represents a 3d Studio r.4 rendering I did of the design model.

Sun Center
Apartments - Condominiums - Office - Retail - 8,000,000 ft² Mixed-use | Commercial | Jakarta | 1995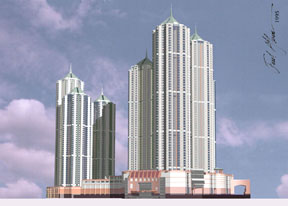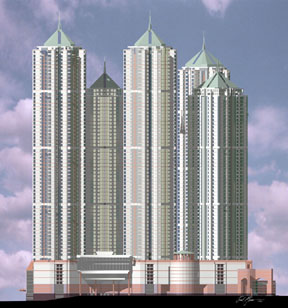 My role on this project was to act as Senior Designer for the 7 residential towers shown above. In the process of this project, I converted the team under me to Autocad r.13 and developed an object-oriented way to document the tower design. The above images represent a rendering I created of the AutoCad model using 3Dstudio r.4 with a series of 10 networked computers over several days.